Dead Of Night 'The Ides Of March' with special guest DJ Owen Owington Owensford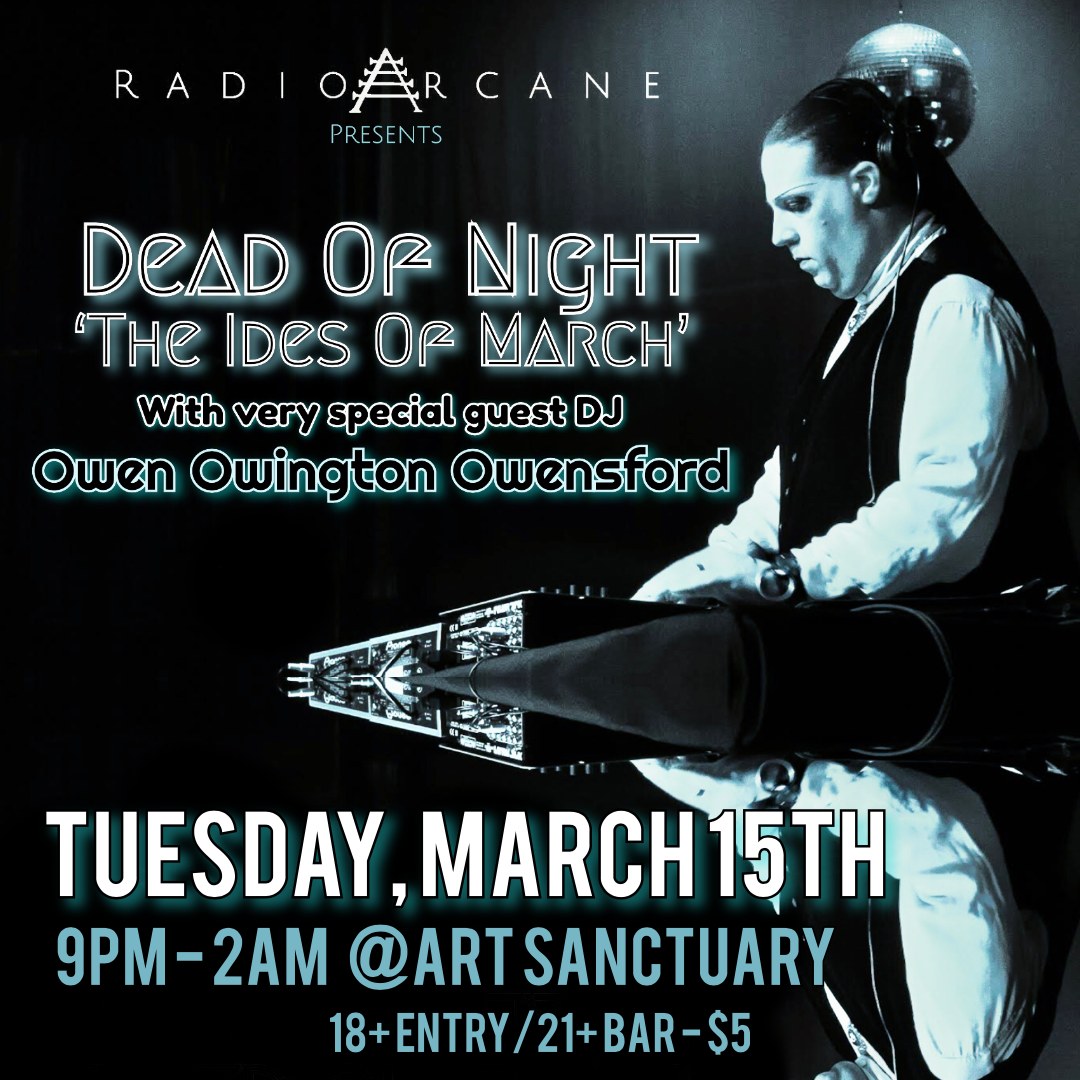 If you spend time at Gothic clubs, you have probably seen Owen around. He has been a staple in the American Gothic Scene for decades from coast to coast. Currently based in the San Francisco Bay Area, his unique way of bringing joy to a dancefloor can be experienced regularly at multiple clubs, including Night Shift, 1984, and The Box, just to name a few, and can also be enjoyed on the weekly Hanging Garden Radio Show, which is heard throughout Northern California or anywhere in the world through the internet.
A love of, and devotion to, music has manifested in many forms over Owen's lifetime. Aside form being a trained classical musician in his own right, Owen has spun professionally in such divergent musical genres as Swing, 80's, Indie, Current Top 40, and Lounge. Even in the Goth/Industrial realm, he is unusually diverse, spinning anything from Ethereal, to Aggrotech & EBM, to Deathrock, to 80's & 90's Industrial, and much more. He simply has a passion for music, itself, and sharing the feeling of experiencing its transcendence with others. This is why he is so eager to take and play as many requests as possible from the crowd. A club is a place to feel good.
The Gothic Scene is something truly special. It is more than a place to go out; it is a genuine community. This is what draws many people it be part of it and this is why many of those people continue to be with it well after their peers in age have lost interest in going to clubs. When not behind the DJ tables, you will often find Owen loving this community. Chances are good he is probably dancing on the floor or conversing with everyone. His personal contributions include creating clubs and festivals, playing benefits whenever possible, and even constructing group trips and tours.
When you see Owen around, say hello, make musical requests, and most of all, have a great time. After all, we're among friends and the joy of music. That's a good enough reason to celebrate any night!
18+ entry
21+ bar
$5 cover
Event Playlist
Sorrow-Vomit
Stranger Dreams

-

Defiant

Human Figures

-

Obedience

Lifeless Past

-

Going Nowhere

Locust Revival

-

Ha Ha Hate Club

Sad Madona

-

Love Balmain
Kaleidoscope
Chiffon Magnifique

-

Ice Witch

Neila Invo

-

Bright & Tempting

Current One

-

Work of Art

Claustraphobia

-

Crimson (Extended)

Arachnida

-

Product of Hate (Paradox Obscur Remix)

Violence Against Man

-

Stranger

Fluid Ghost

-

End-Stage Photophobia (Extended Dub Mix)
DJ Owen Owington Owensford
????