Dead Of Night & The Dark Market feat. DJ Cinis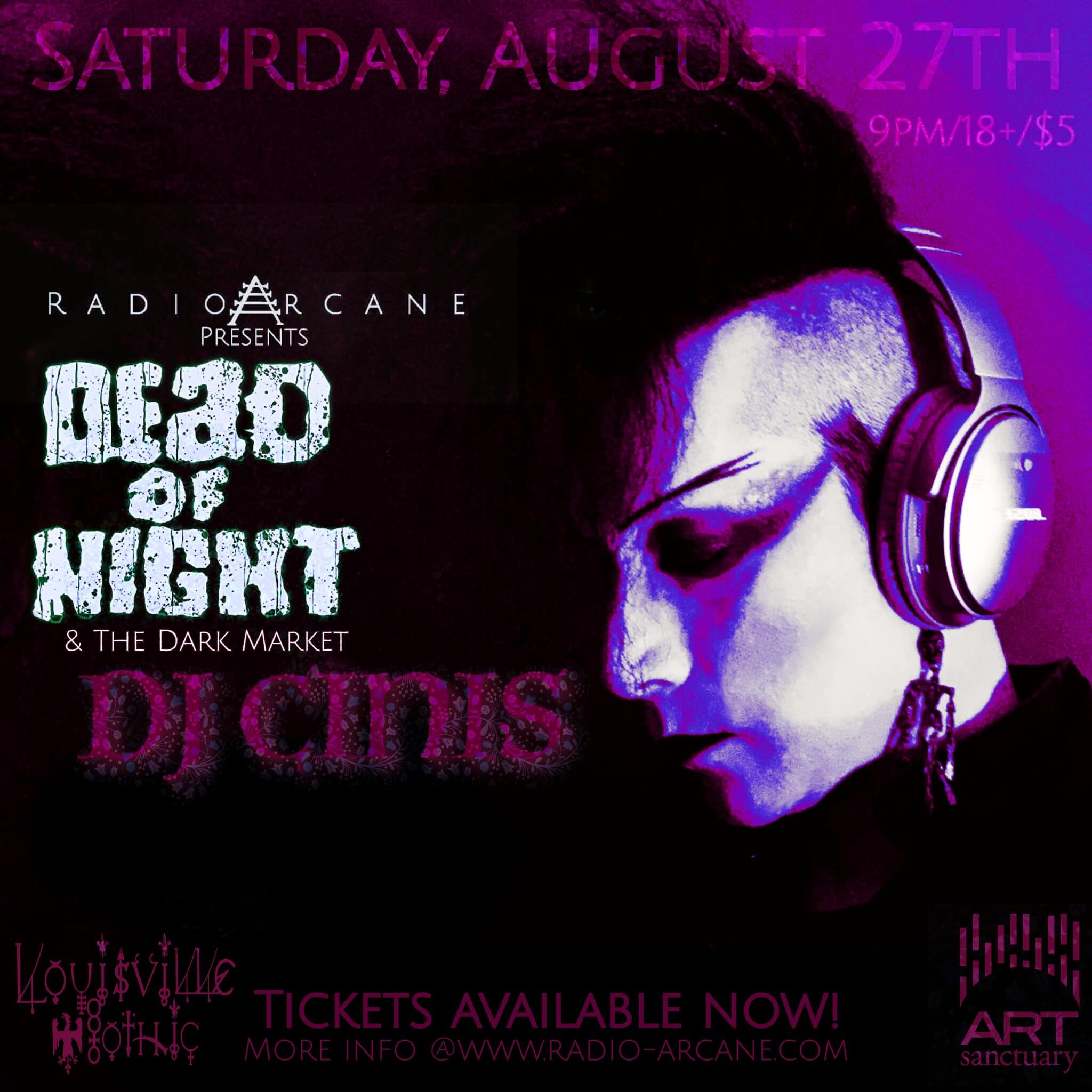 The Nightmare continues on Friday, August 27th as Dead Of Night & The Dark Market keep up the monthly grind of dark eclectic music.
Come out and help keep the dancefloor barely alive as we celebrate the glum drudgery of our dreadful existence.
This month will feature very special guest DJ Cinis.
A special performance by Tenebris Danse.
Radio Arcane Dark Music Specialists - Count Grozny & Sorrow Vomit!
Vending by the talented Dark Market.
Food Truck - Chi-Town Grill
Drinks by the wonderful Lany StarDust
DJ Cinis spins meticulously curated sets of synth and guitar-based dance melodies. First spinning in Boston for a decade (1995-2005) and later in Washington D.C. and Baltimore, in 2020 he transitioned to online livestreams like many other DJs. He is currently spinning tunes IRL during his 2022 Farewell Tour (Part I) which includes various U.S. cities. Tour dates go through the summer.
Catch his weekly DJ set on Wax Radio on Friday mornings and his occasional Weekend Warm-Up livestream Twitch party. Find links to DJ Cinis' various social media platforms at http://linktr.ee/djcinis.
18+ entry
21+ bar
$8 cover
Event Playlist
Sorrow-Vomit
El Ojo Y La Navaja

-

Alma Corrupta

Vacíos Cuerpos

-

Laberinto
Sorrow-Vomit
DIAF

-

Schwefl (ft. Death In Rome)

Puerta Negra

-

Quemar Bandera

Missvnaries Ov Charity

-

Cvm Again

Venom Vampires

-

Luxury In Deceit
Performance by: Tenebris Danse
DJ Cinis
Other Day

-

Still Der Hand

The Awakening

-

A Victory of Love
Count Grozny
Evils Toy

-

Mad Modem Dream

Snakeskin

-

Bite Me (Club Mix)

Das Kabinette

-

The Evil of His Kiss
Sorrow-Vomit
Babes of Enola Grey

-

Freiheit Sicherheit (Curses Remix)

Divole

-

I Will Wait For You

Local Suicide

-

High Buildings (Die Selektion Remix)

Vandal Moon

-

Sweet Disaster

Harsh Symmetry

-

Mirror Twin

Laura Krieg

-

Corps Brillants
DJ Cinis
The Glove

-

Sex Eye Make Up

Climas Interiores

-

Fardos

Adam Tristar

-

Suicide Neighborhood

SFD & Diamond Dog

-

In The Flat Field

Los Carniceros Del Norte

-

Sangre

Old Cat's Drama

-

Caffeine Zombie

45 Grave

-

Party Time (Single Version)

Vacuum

-

Industria Asesina

Meat Injection

-

Time Infection

Zwarte Poëzie

-

De Laatste Dagen

She 1 · Him 2

-

Fame (ft. Steven Siebold)

Visage

-

In The Year 2525

Gant

-

Bela Lugosi's Dead

Hasta La Muerte

-

Dragcula