Evening Tea 'LIVE!' - Eerie Tales (1919) with Pas Musique and Sinister Senile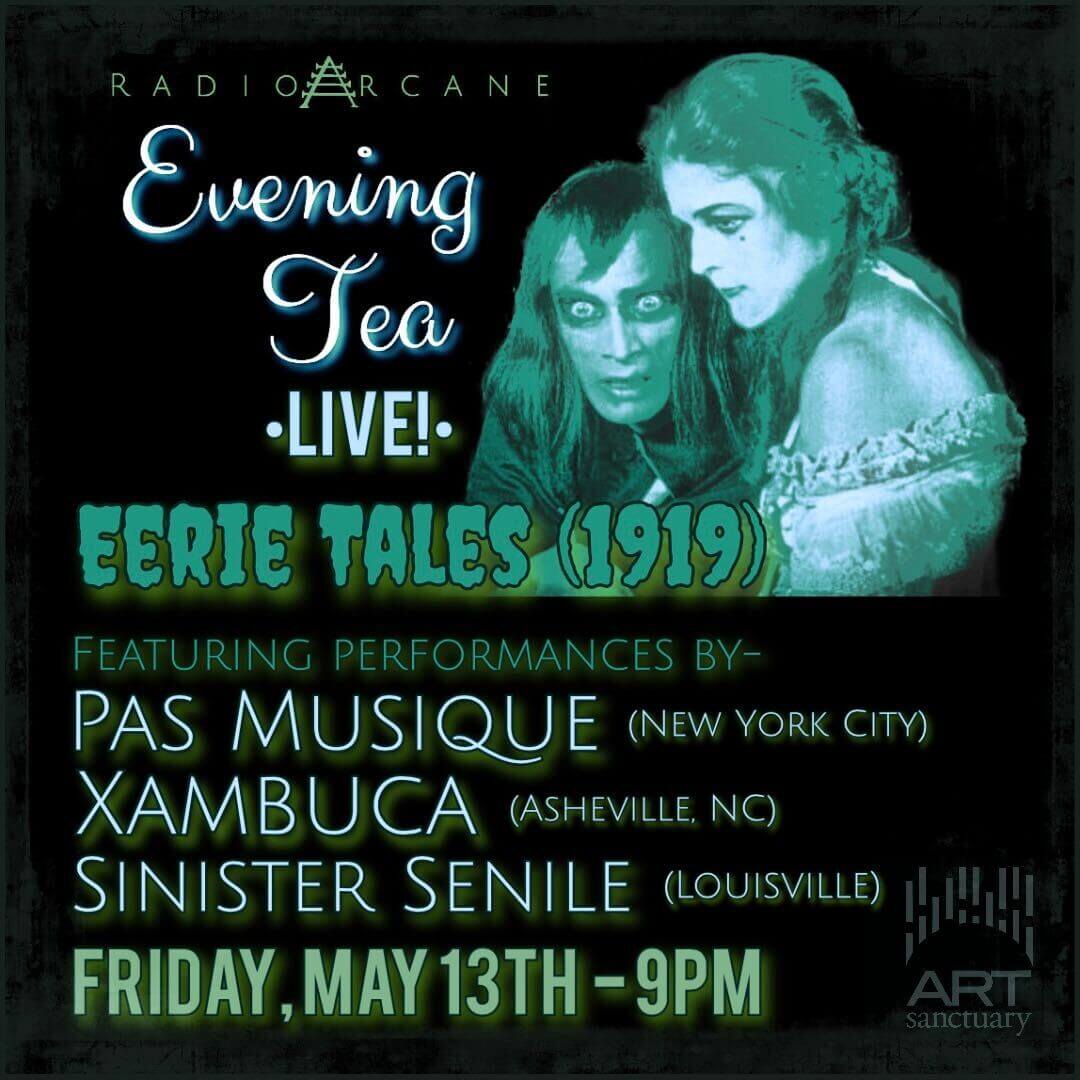 Join us for Evening Tea LIVE and in person at Art Sanctuary and live streaming on Twitch TV to watch the masterpiece of film history "Eerie Tales" (1919). Listen to LIVE music by Pas Musique (New York) and Sinister Senile (Louisville) while having some tea and pleasant conversation!
Full Bar at Art Sanctuary but we'll be serving a tea selection as well!
Eerie Tales (1919)
A demon, a reaper, and the ghost of a prostitute read gothic short stories and act them out.
Writers: Anselma Heine (story "Die Erscheinung"), Robert Liebmann (story "Die Hand"), Edgar Allan Poe (story "Die schwarze Katze")
Stars: Anita Berber, Conrad Veidt, Reinhold Schünzel
Director: Richard Oswald
Bands:
Pas Musique (New York)
"Started in 1995 out of Brooklyn, NY, USA, driven by the creative talents of Robert L. Pepper working in the mediums of sound and video. Members include Jon "Vomit" Worthley, Michael Durek, and Robert Pepper. Pas Musique have performed in 17 countries and all throughout the United States."
https://pasmusique.bandcamp.com
Sinister Senile (Louisville)
"One of many projects by experimental artist Kensaku Nishizato. Since 1986 the quest for new sounds and stretching the boundaries has led to the evolution of Sinister Senile in 1999. Kensaku was heavily evolved in the experimental scene in Asheville, NC for most of the 90's, and he has collaborated with Nurse With Wound, Val Denham, The Sword Volcano Complex, and many more."
https://sinistersenile.bandcamp.com
18+ entry
21+ bar
$8