Goth Prom + Plack Blague / Scary Black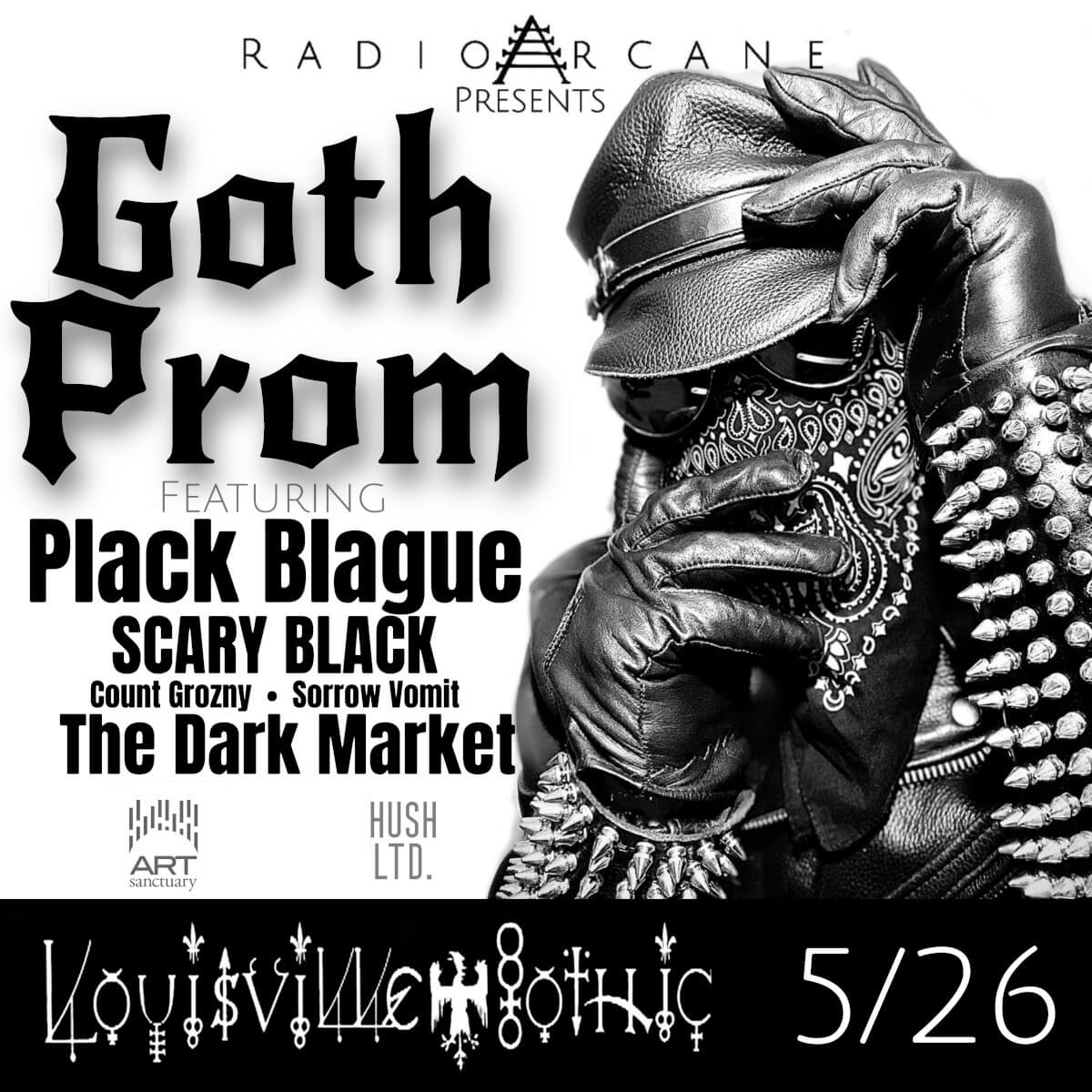 It's prom season!
Join us for this year's Goth Prom with special guest Plack Blague and Louisville's own Scary Black!
Brought to you by Radio Arcane, the Louisville Gothic forum, The Dark Market and Hush LTD.
The Nightmare continues on Friday, May 26th as Dead Of Night & The Dark Market keep up the monthly grind of dark eclectic music. Come out and help keep the dancefloor barely alive as we celebrate the glum drudgery of our dreadful existence.
This month will feature:
Goth Prom
Live performance by Plack Blague & Scary Black
Dance performance by Tenebris Danse
Dark Music Specialists - Count Grozny & Sorrow Vomit
Vending by the talented Dark Market. (Vendors list below)
Prom Photos by Odd Logic
Food Truck - Fright Bites
Drinks by the enchanting Lany StarDust
18+ entry
$15 advance tickets
$20 day of show
Dark Market Vendors
MeTime
Ashlee Alexander
Dollhouse Studios
Hanna's Magic Candles
Marlena Mayfield
Katarina White: Throwin Bones Candle
Shadowbrite Creations
Melissa Noseworthy Magpie
Love, Leather, and Lace
Alicia May Collection
Tony Dixon Art
Visions of Hair
Valeria Tellez Arrellano
Kat Sass
Kindred Spirit Designs
The Napping Raven
Malady Adroit
Gingerbread Hag
Lyrics Synergy
Moon and Moss
Justin Trevor Inkwell
Lilith's Fire/Dunnaree
Gray Eyes Goats / Lady Vanessa
Feral Findings KY
Event Playlist
Sorrow-Vomit
Systeme Paradoxe

-

Rouler...

Dead Cool

-

Stranger Kind

Ratpajama

-

I Love You Please Go Away

Corbeau Hangs

-

Necroamor
Performance by: Tenebrous Danse
Count Grozny
Current 93

-

When The May Rain Comes

The Young Gods

-

Rue Des Tempêtes
Sorrow-Vomit
Puerta Negra

-

Caída Al Mal
Performance by: Plack Blague
Count Grozny
M/A/T

-

Das Fundament (Remix)

MGMT

-

One Thing Left To Try

Ladderclimber

-

Lucretia My Reflection

Shad Shadows

-

Fight The Dragon
Sorrow-Vomit
Kill Shelter & Death Loves Veronica

-

Sex Tape

Trace Amount

-

S.U.R.V.I.V.A.L. (Kontravoid Remix)

Beta Evers

-

Don't Be Afraid
Count Grozny
Marie Madeleine

-

No Love (La Muerte ft. Pauline Ohanna cover)

Aslan Faction

-

Bring On The Dying

Human Tetris

-

Long Flight

Sine City

-

In The Night I Call Your Name