Dead Of Night & The Dark Market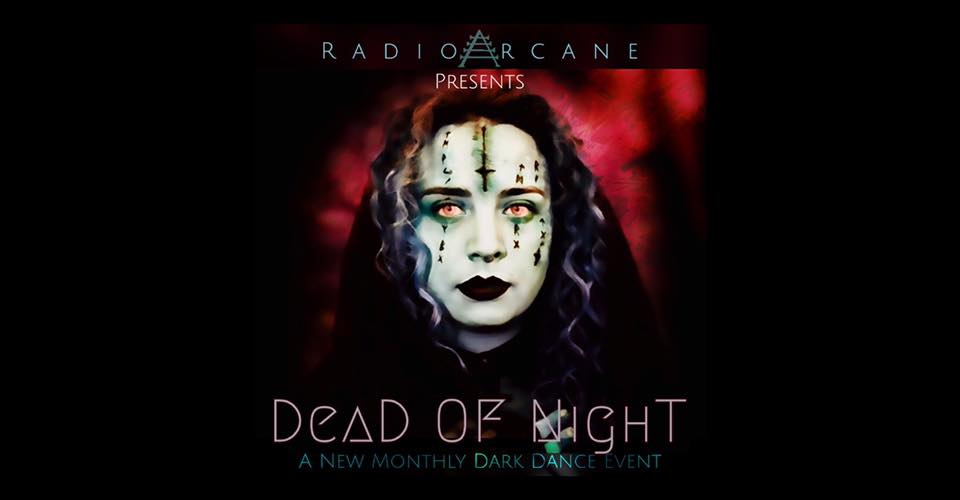 Radio Arcane presents 'Dead Of Night' a new, post pandemic era, music and dance night focused on Dark Eclectic Music such as Gothic, Darkwave, Post-Punk, Industrial, EBM, Coldwave, Synthwave, Synthpop, New Wave, Minimal, New Romantic and other related genres.
Along with the music, dancing and lounging, there will also be shopping!
As The Dark Market returns with a curated, night time oddities and Art Market!
All of this under one roof at Art Sanctuary!
Free early bird entry before 10pm!
$5 cover after 10pm
These events will also be live streamed through our new Radio Arcane TV Twitch channel! https://www.twitch.tv/radio_arcane_tv
Event Playlist
Sorrow-Vomit
Dead Cool

-

Nothing But Us

Suzi Sabotage

-

Sacrifice (Carnal Machinery Remix)

Shad Shadows

-

Sad Bodies

SKNNRS

-

Come On (Haunted Strasse Remix)
Kaleidoscope
Crystalline Stricture

-

Pristine Gardens

Violetiger

-

Rotation of Steel

Cyan ID

-

Run Away You Bastard

Paranormales

-

Origen (IAMTHESHADOW Remix)
Talamasca
Squid Lid

-

Breaking Rawk

A Flock of Seagulls

-

Modern Love Is Automatic

Plague Garden

-

These Dreams
Sorrow-Vomit
Ultra Sunn

-

Silver Smile

Ascii.Disko

-

So Young So Cold

Spæcialista

-

Muerde Y Huye

Infravision

-

Wasteland (feat. Zanias)

!Bang Elektronika

-

Aktivierung! (Randolph & Mortimer Remix)

Chris Shape

-

Walk Alone (feat. Blind Delon)

Aura Nox

-

Stiletto (feat. S//Rose)
Kaleidoscope
Urbandoned.

-

To Get There

Dead Cool

-

Nothing But Us

Bedroom Talks

-

When Winter Comes

Floating Ashes

-

Find Another Way

New Canyons

-

Adult Education

Hollow Reflection

-

Hollow Reflection (Deprived of Substance)

Dark

-

In The Dark You Die

Peppy Pep Pepper

-

Static Shadows

Oberst Panizza

-

Octobre Noir (feat. Fef & Valisia Odell)

Adán & Ilse

-

SuperStar (Techno Pop Remix by HIV+)